This is what I see from my bedroom window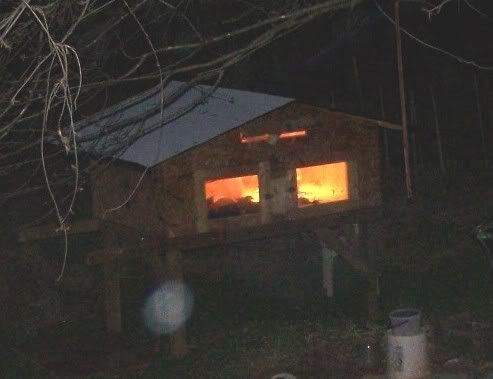 That is the
outdoor brooder
. The 19 standard sized chicks are on the darker side sleeping. They are 6 weeks old today. I only got the brooder about 80% complete, but it is enough to use it. I still need to finish the leg supports to make it stable for moving. I also want to put different doors over the vents that will look nicer.
A Backdoor for easier catching and clean up will be added once it is out of service.
Finally the whole thing needs to be painted.
My favorite of those chicks is "Buffy". She is a Buff Orpington girl. She comes up to me everytime I open a door and waits to be petted. She is talkative little lady. She sat on my shoulder yesterday for a walk around the area. Don't know what will happen to my shoulder when she grows up to be 6-8 pounds.
I will be candling the bantam eggs in the Suro 20 tomorrow. Only 1 week to go.
~~Matt~~